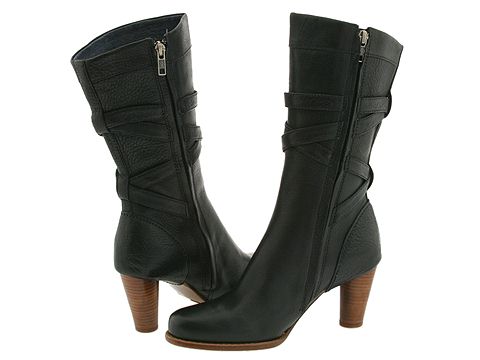 I am not sure why I like these so much. I tried not to like them, because they are Uggs (their new slightly more appearance-sensitive "Nolita" line). It's kind of how I tried really hard not to like Uggs in general. In principle, I am opposed to dropping a couple Benjis on remarkably unattractive shoes, no matter how soft and warm and fuzzy, simply because a few years back they became trendy. I did, however, buy a pair of knockoff Uggs at Sears for 20 bucks back when I sprained my ankle and was trying to figure out how to look cute for a Jam Guy visit without wearing high heels. Now I love those knockoffs so much I have Lysol-ed the soles and wear them all around the house, because the nice (fake) sheepskin lining is so kind to my feet that get abused in heels most of the time when I'm not in the house.
One of my fellow interns has this pair of Uggs with a little buckled pocket on the side, and they are actually very cute on her, and I have eyed and coveted them a little, but secretly.
So I get the appeal of Uggs, although for the price tag, I'll just stick to my knockoffs, or get a pair of
Bearpaws
when the knockoffs fall apart.
So the cool thing about these actually attractive high-heeled Uggs, besides the fact that they are high-heeled, is that they have the luxurious (real) sheepskin lining along the footbed of the boot. So they're probably pretty warm and comfortable, even if they do have a three-inch heel.
One other reason I tried not to like them is that I generally tend not to like black leather with wood-tone heels, because for some reason it makes me think of old bar furniture. Although I normally like old bar furniture. Maybe that's why I like these.
I think maybe I spend too much time thinking about shoes.
But as long as I
am
thinking about shoes: